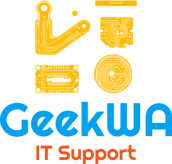 GeekWA is a team of local computer technicians based in Perth, Western Australia. We specialize in providing reliable and professional computer repair services to residential and business customers. Contact us for all your computer-related needs.
Sr. Citizen Discount: GeekWA provides a 10% Discount to Our Appreciated Senior Citizen Customers
Virus and Spyware Removal
Our team of computer technicians specializes in removing viruses and spyware, ensuring the security and smooth operation of your computer. Trust us to keep your data safe.
Accidentally deleted important files? Don't worry, our experts can help you recover your data quickly and efficiently. We have the tools and knowledge to retrieve your valuable information.
IT Support for Residential and Business Customers
We provide comprehensive IT support services to both residential and business customers. From troubleshooting Network connections to setting up email and hosting, we've got you covered.
Facing hardware issues with your computer? Our skilled technicians can diagnose and fix hardware problems, ensuring optimal performance and extending the lifespan of your device.
Need assistance with domain management? We can help you with domain registration, DNS configuration, and other domain-related tasks. Trust us to handle your domain needs efficiently.
No need to worry about bringing your computer to us. Our technicians offer on-site services, saving you time and effort. We can address issues with Desktop Computers, Laptops, Printers, and more.
Networking problems can be incredibly frustrating, our team of experts can assist in diagnosing and resolving internet and network problems. Additionally, we offer services for setting up small office or home office networks
No Hidden Costs
$120.00 first hour (includes call out and first hour labour). Thereafter $60.00 per 30 minutes.
Services
Onsite Services

Laptop, Dekstop, Phones and Tablets

Virus and Spyware Removal

Hardware & Software Repairs

Network & Internet Issues

Hardware & Software Upgrades

Printer Issues

Data Recovery